Our weekly look at what's weird in theaters, on hot-off-the-presses DVDs, and on more distant horizons…
Trailers of new release movies are generally available at the official site links.
IN THEATERS (LIMITED RELEASE):
Nina Forever (2015): The bloody corpse of his deceased girlfriend appears in his bed whenever Rob tries to have sex with his new gal. Reviews for this British sleeper have been 100% positive thus far, which means it gets an ultra-limited release in major U.S. cities only. Nina Forever official site.
SCREENINGS – (Los Angeles, Cinefamily, Feb. 14):
Love Exposure (2008): Read the Certified Weird entry! What better way to spend Valentine's Day with a weirdly loved one than by watching a four-hour epic black comedy about the romantic obsession of an upskirt photographer? Love Exposure at Cinefamily.
SCREENINGS – (New York City, Spectacle Theater, Feb. 14):
The Red Squirrel (1993): Read the Certified Weird entry! If you're on the right coast and looking for a movie to take your strange sweetie to, what about this romantic tale of a suicidal Spanish musician who finds a reason to live when he pretends to be the boyfriend of an amnesiac motorcycle crash victim? What could be more romantic, or dangerously stupid? The Red Squirrel at Spectacle Theater.
IN DEVELOPMENT:
About Strangers (201?): Experimental film about three Los Angeles losers searching for a time machine. The first of a planned trilogy of films about drifters from Way Down in Chinatown's Eric Michael Kochmer. About Strangers at Seed & Spark.
Seder-masochism (2018?): Nina Paley (Sita Sings the Blues) returns to feature-length films, this time with an irreverent (and, as the title indicates, violent) take on Exodus scored to classic rock tunes, She'll have a work-in-progress screening on March 1 for anyone who happens to be in Champaign, IL at 7:30 PM on a Tuesday. About 40 minutes of animation should be complete by that time. Seder-masochism updates at ninapaley.com.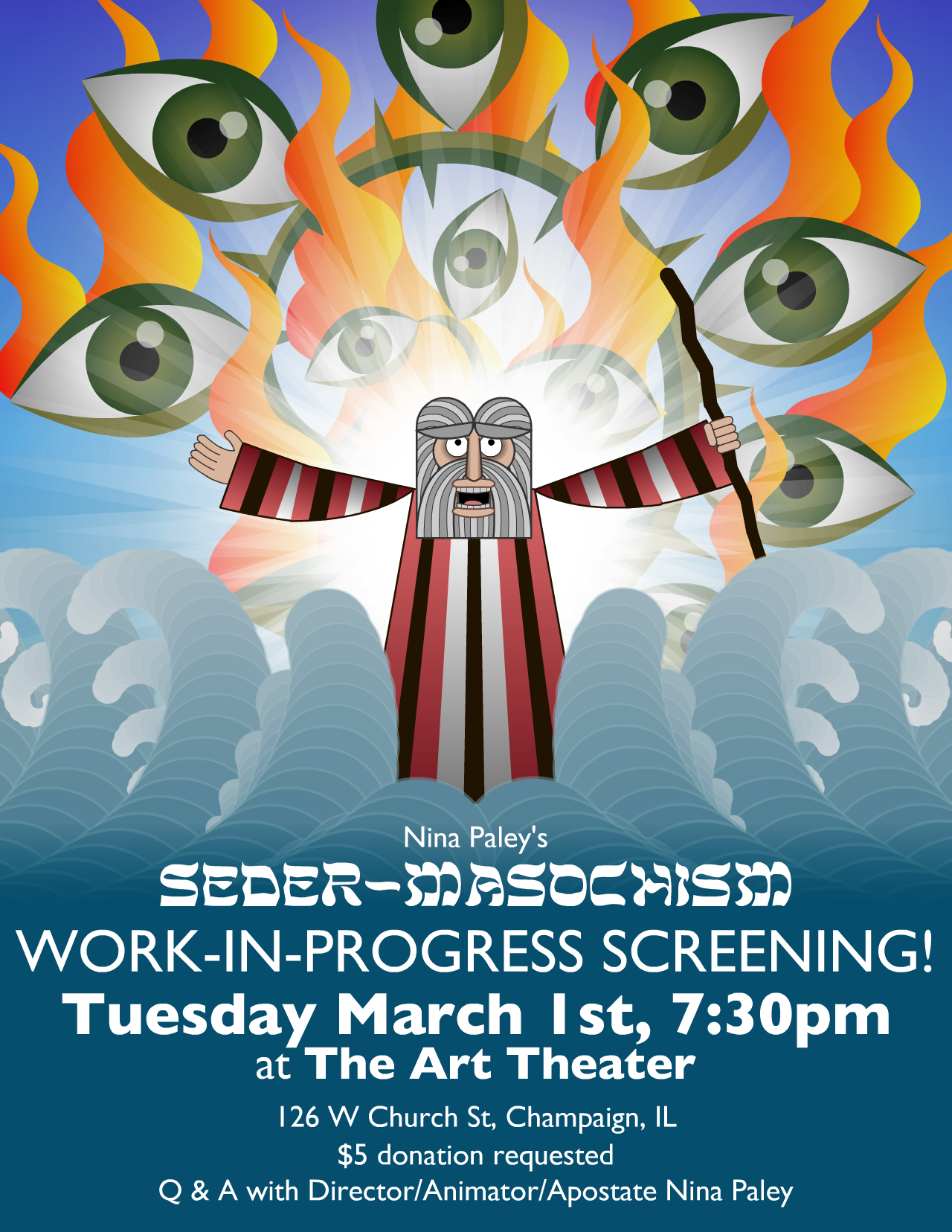 NEW ON BLU-RAY:
Lizard in a Woman's Skin [AKA Schizoid] (1971): A psychedelic giallo about a woman who dreams about killing her downstairs neighbor in a drug-fueled orgy, then wakes to find herself accused of murder. There are many interviews and featurette on this Blu-ray from Mondo Macabro (the film does not appear to be available on DVD at the present time). Buy A Lizard In A Woman's Skin [Blu-ray]
.
FREE MOVIES ON SNAGFILM:
Alice in Wonderland (1949): This French/British Alice is a bit creaky in its production values, but that only adds to the charm of its bright Expressionist sets and the uncanny stop-motion White Rabbit. It's no Neco Z Alenky, but every Alice is weird in her own way. Watch Alice in Wonderland (1949) on SnagFilms.
What are you looking forward to? If you have any weird movie leads that I have overlooked, feel free to leave them in the COMMENTS section.